William "Bill" Bauman
17 AUG 1933 – 07 NOV 2020
87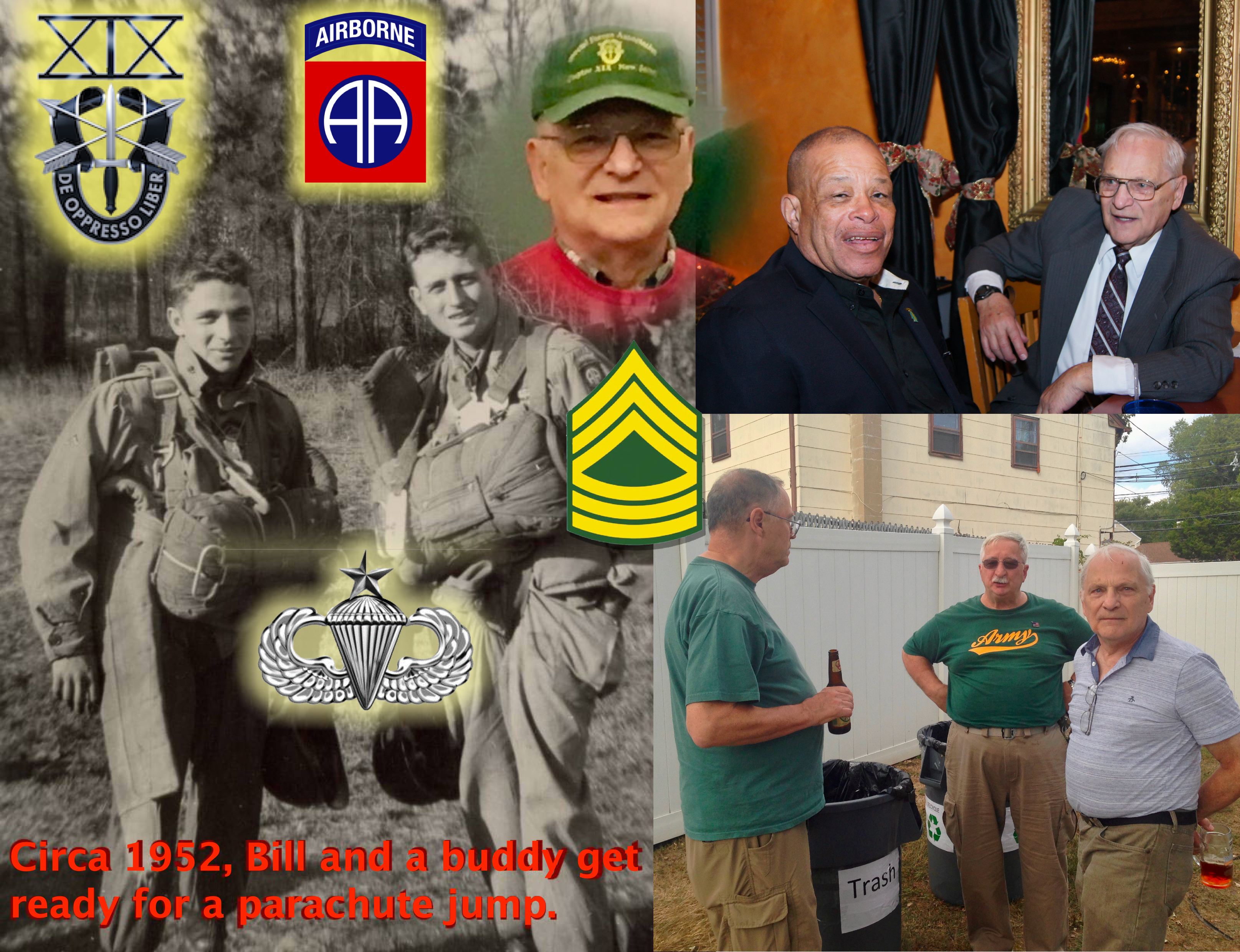 WILLIAM BAUMAN, MASTER SERGEANT, U. S. ARMY (Retired)
Bill Bauman, 87, of Jamesburg, NJ, formerly from Hasbrouck Heights, NJ, passed away peacefully surrounded by his family on November 7, 2020. He was born August 17, 1933, in Passaic, NJ, to Stephen and Rose Bauman (Née Bezzeg). He was a mechanic at the US Post Office Bulk Mail center in Jersey City, NJ, where he worked for over 35 years.
His military service was primarily with the 82nd airborne division and the Army Special Forces. His decorated career spanned from the Korean War to beyond Desert Storm. He attended Fairleigh Dickinson University and William Paterson College.
He is predeceased by his mother, Rose Bauman; father, Stephen Bauman; brother, Stephen Bauman and his wife Audrey; sister, Rose Gallagher and husband Joseph; his sister Theresa Schwartz and husband Frank and his brother-in-law Jeffrey Missionelli.
He is survived by his wife of 63 years, Kathleen (Née Fisher); his daughter Ellen Santoro and husband John of Sayreville, NJ; his daughter Donna Bauman of Jamesburg, NJ; his granddaughter Erica Santoro and partner Kevin Sartain of East Windsor, NJ; his granddaughter Katelyn Congiusta and husband Paul of Woodbridge NJ; his great granddaughter Lyanna Congiusta; his brothers and sisters: Charles Bauman of Hilton Head, NC; Michael Bauman and wife Nancy of Kutztown, PA; Carol Madden of North Lauderdale, FL; Dorothy Missionelli of Hawthorne, NJ; his new found sister Sue Olstad and husband Paul of Georgetown, TX and numerous nieces and nephews.
In his retirement he was actively involved with his service unit – Special Forces Association Chapter 19 – where he was the treasurer and wrote the quarterly newsletter. He was a ham, an amateur radio operator and proudly displayed his call letters (K2HQU) on his hat and license plate. He was known to enjoy a crisp beer in a warm mug and going out to dinner with his family and friends. He treasured Bauman family reunions and get-togethers, especially in recent years with the newest additions to the family! He was a kind, loving, generous man; and a wonderful husband, father, grandfather and great grandfather. He had a great sense of humor that stayed with him until the very end. He was a history buff and iconic storyteller; which will be greatly missed by many. He enjoyed spending time with his two cats, Cali and Tabby, and his cockatiel, Piper. He was larger than life and will be deeply missed by all who knew him.
Due to the Covid-19 Pandemic we will be doing a celebration of his life this coming summer. In lieu of flowers, please make a donation to the Pancreatic Cancer Action Network, at www.pancan.org in his honor.